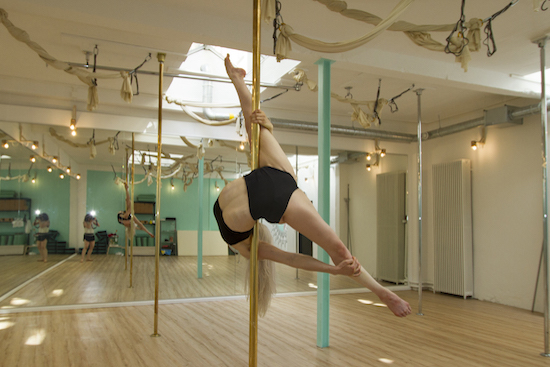 More info
What to wear (for all levels) :
Shorts, T-shirt or singlet, bra (for women). No body moisturiser or jewellery.
Initiation
Learn basic techniques and moves in order to circle around and climb the pole.
Prerequisites: None, this course is accessible to all !
Deb 1 (begginer 1)
Learn and master a wider range of moves, though no inversions yet (head upside down).
Prerequisites: have acquired the basic movements taught in the course of initiation (climb, sit, fireman …).
Deb 2 (begginer 2)
Learn more difficult moves, including inversions and the pole tricks that epitomise pole dance.
Prerequisites: have the strength to pull up from a fan-kick to sit. Be comfortable holding onto the pole with only legs (thighs or back of knees). Comfortable with spin moves (on both a static and spinning pole).
Inter 1 (intermediate 1)
Learn more complex moves, and how to link several moves in sequence to form combos.
Prerequisites: be able to invert, mastered the open V, inside leg hang, outside leg hang and butterfly from a basic Invert.
Inter 2 (intermediate 2)
Learn moves requiring more strength and flexibility, as well as more complicated combos.
Pre-requisite: be comfortable with a handspring (batman), shoulder mount, brass monkey and the basic transitions taught in inter 1 (on both sides).
Avancés (advanced)
A class that requires great strength and extreme flexibility of the back and legs to help you achieve the mythical moves that defines pole dance.
Prerequisites: to be able to do the splits, have good flexibility of the back and shoulders. Feel at home on the pole.
Pole "Tous niveaux" (all levels)
A mixed level class accessible to all from Beginner 1 onwards, where the teacher with guide each student based on their level.
Studio libre (open Studio)
No teacher ! You are alone with the pole and able train freely ! (If the class taking place in at the same time in the other studio is cancelled, the Open Studio slot is then also cancelled).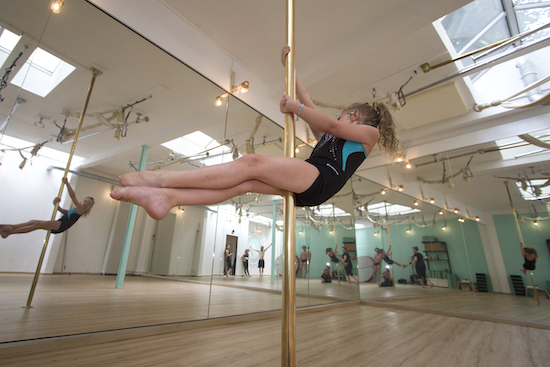 More info
Pole enfants (Kids)
Learn the basics of the pole in a fun and age appropriate way.
Age : 7-10 years
Pole ados (Teen)
Learn moves and spins which highlight the sporting aspects of the discipline.
Age : 11-15 years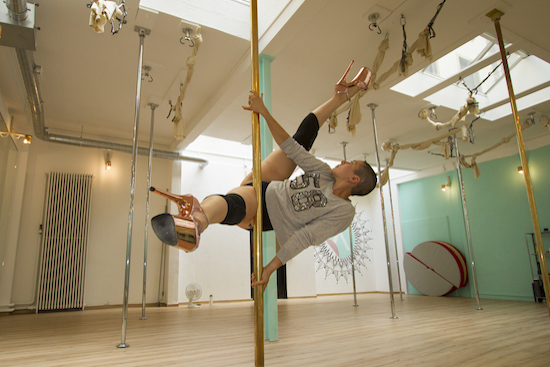 More info
A choreography class in heels, mixing floor work, dance and spins on the pole.
Prerequisites : none, accessible to all levels !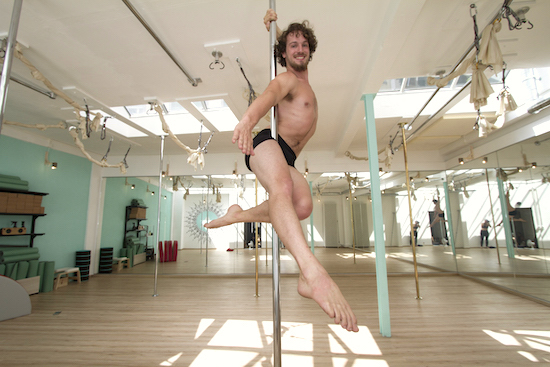 More info
A choreography class that will combine dance and the technical moves learnt in our pole classes.
Prerequisites : minimum 2 or 3 classes of Deb1 level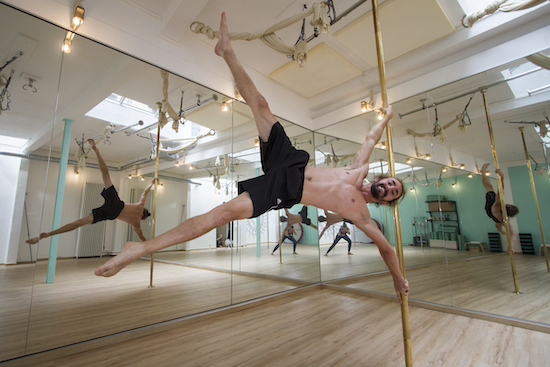 More info
Level 1
Learn inversions and different ways to climb the pole.
Prerequisites : minimum Deb2 level
Level 2
Work climbs that require advanced strength and control: shoulder mount, flags, boards…
Prerequisites : Having validated the level 1 skills (basic-invert, inverted V, shoulder mount,
batman, cart wheel, positioning and momentum in twisted grip, caterpillar
mount, chopper, …).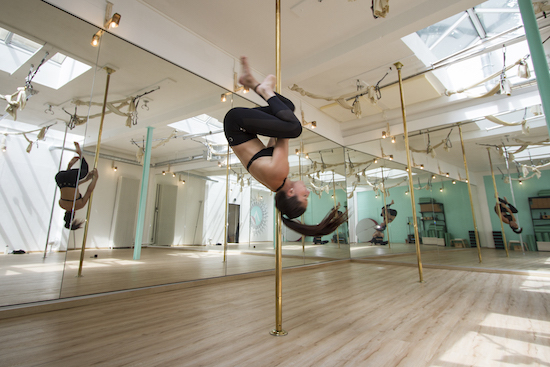 More info
Learn acrobatic tricks on the pole : flips, drops, somersaults and dynamic moves.
Prerequisites : Minimum Inter 2 level