Facilities :
– Small room: 5 poles of 3.5 m
– Large room: 10 poles of 3.4
– 4 hoops
– 11 hammocks
– Locker rooms and showers
– Organic drinks at reception
Room rental : see prices
Complementary services (no extra charge for those with unlimited memberships and for competitors) :
– Padlock rental : 3.-/day
– Towel rental : 3.-/day
Practical access :
– Trams 12 and 18 : stop "Augustins", a  2min walk away
– Close proximity to Migros and Coop car parks / alternatively there are paid parking places in the surrounding streets
General Terms of Sale : Learn more
STEPH
Steph's philosophy is that your success, is her success. She will tirelessly experiment with different methods of teaching in order to help you progress. A natural teacher, she will make you proud of every achievement as "there are no easy wins on the pole". Her energy is so magnetic, you will never want to leave the studio !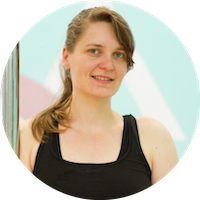 CHLOÉ
Because she dreams one day of having her tent to sleep on a hoop next to her donkey but that she gives it back to when her balcony tomato shoots will have no more room, Chloe is the teacher of converted hoop at the pole. It will give you all the little tricks so that grace and fluidity seizes your movements. Everything looks sweet with Chloe! Promised she will only sting your curiosity ! – google translate, no idea how to actually translate, need help haha !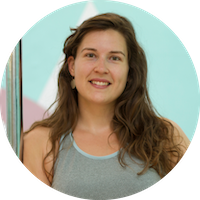 LUCIE
Lucie not only has an eagle eye for correcting the finer details of every pole move, but we love her for being able to deliver her feedback with a great sense of humour. Her favourite moves are those we like to call "lean & squeeze". Basically, the more you grip using counterweight and skin grip, and the less strength is needed, the more she loves it ! You might also find yourself tempted to visit her outside the studio at her daytime profession as an osteopath if your body is feeling a little battered by the pole !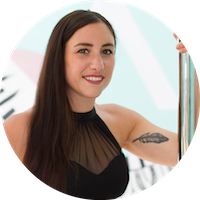 CHLOÉ CAP'
AKA "Cap-Chloé" on instagram. The kamikaze of the team. Always in control, this competing party girl looks for the most acrobatic and seemingly impossible moves she can find, so that she can figure them out and disclose the secret of conquering them to her students.
Her madness is only matched by her broad smile. An adrenaline junkie and a breath of fresh air, she will infect you with her motivation and confidence !
CATIA
From acrobatic rock to obstacle courses, Catia knows all the secrets to strengthen your joints and muscles. A school teacher by day, she is disciplined, meticulous and attentive. What you see is what you get – a real encouraging and effective teacher.
She can't help but  motivate you; and you will eagerly punish your body just to get good grades !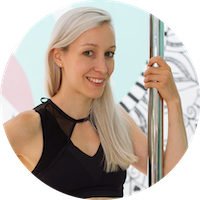 JUE
Jue is the little prodigy of the studio, only discovering pole two years ago. Passionate and driven, she worked hard on her strength, flexibility, and skills so that she could compete in this short period of time. Winner of Pole Theater Switzerland 2019 in the Amateur Drama category, 4th in IPSF Pole Artistique and Sport. Her perfectionist soul is reflected in her performances and achievements  on stage. Her gentle voice will help you to accept the rigor of her intense exercises, and her smiles will reassure you of the safety of the contortion figures that she loves so much.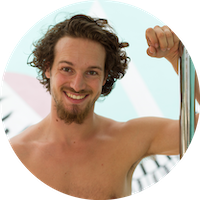 JEREMY
When searching for someone who embodies powerful moves, clean lines and a gentle teaching style with a reassuring hand, the studio was blown away when they found this gem from the gymnastics circles. Jeremy is a curious, fearless, wise and conscientious teacher who will make you love strengthening your muscles. He will expertly guide you in your moves with a lot of encouragement and knowledge.
RAFAELA
Our bubbly, sunny and funny Rafaela is a virtuoso teacher. Students are impressed by this Latina sensation who can draw on her experience as a Samaritan and medical student. You will quickly be seduced by her sincerity and profound generosity, which you can enjoy every Saturday morning !
CINTIA
She has the looks of a blonde doll and gives off the vibes of a super chill cowgirl. Coming from a background in acrobatic gymnastics, Cintia is an athlete with spectacular curves. Her inability to sweat from her hands and her beautiful long arms sometimes make us envious, but at the end of the day everyone loves this girl for her genuine goodness and kindness.
JESSICA
Better known as Jess to insiders ! After training to become a yoga instructor in Bali, her desire to share her passion for wellness quickly led her to teaching. Her skills as a nutritionist and yogi, combined with her contagious zest for life, will lead you to bring sweetness into your lives. Indulge yourself in the discipline and precision of her classes with total peace of mind in a self-respecting atmosphere.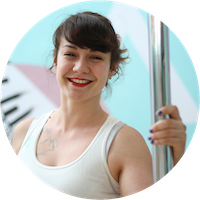 MARINE
Our "Sweet Submarine", usually devoted to seduce our taste buds during aperitifs and studio parties with her delicious meals, has the gift of combining flavors both on the plate and on a pole ! So this show girl can put on her exo heels to teach you how to tease as well as put on a red nose to make you laugh to tears ! A piece of the ADS dream team puzzle needed to replace if necessary and make any circumstances as easy as (vegan) pie !